More Than Music by Elizabeth Briggs
(Chasing the Dream #1)
Date of Publication: June 17, 2014
Genre: contemporary NA romance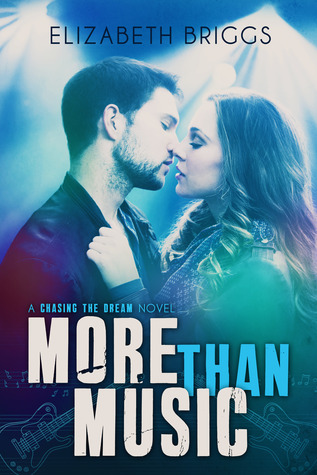 Blurb:
Music major Maddie Taylor just finished her junior year of college and has a summer internship lined up with the LA Philharmonic, yet every night she practices guitar and secretly dreams of a louder life. But geeky girls like her don't get to be rock stars. That is, until tattooed singer Jared Cross catches her playing guitar and invites her to join his band on The Sound, a reality TV show competition.
Once on the show, Maddie discovers there's more to Jared than his flirty smile and bad boy reputation – and that he's just as big a geek as she is. With each performance their attraction becomes impossible to ignore, but when the show pressures them to stay single they're forced to keep their relationship secret.
As the competition heats up, Jared will do whatever it takes for his band to win, and Maddie must decide if following her dream is worth losing her heart.
EXCERPT:
Jared was asking me—me—to play guitar in his band. In an audition on live TV. In front of four of the greatest musicians ever, plus millions of people at home. Mind. Blown. Somehow I'd been handed my secret dream on a silver platter. Next up, Jared would ask me out, too. Yeah, and then we'd ride off into the sunset on a rainbow unicorn with our million-dollar record deal.
"You want me to join your band?" I asked slowly, studying him for any sign that this was all a joke.
"Just for the audition. That should give us enough time to find another bass player to take Becca's place."
Ah, there was the catch. I would only play with them for one day, giving me a tiny taste of their lifestyle, and then they'd drop me as soon as the audition was over. No, better to never know what it would be like to play guitar on stage, to be part of a band, to make music with Jared and Kyle. Besides, I couldn't play guitar in front of the world. Guitar was my secret, my fun escape, and nothing more. My internship started on Monday, and I needed to focus on that—not on silly dreams of being a rock star.
"I'm sorry, but I can't." I spun around and rushed toward the exit before he could respond. I didn't want him to see my face and how much I desperately wanted to do it.
"Wait!" He ran after me, but I kept going, past other students who watched us with curiosity. "Maddie, wait!"
Damn his long legs. He caught up to me, practically jumping in front of me to stop me in my tracks. I kept my face glued to the floor, to the contrast of his black combat boots and my green Converse. I couldn't look up at him or I'd be tempted to say yes to anything.
He lowered his voice. "Please, you're the only person who can help us. You're an amazing guitarist, and you already know our songs. We need you."
I shook my head, looking anywhere but at him. Hearing him say he needed me with his whiskey-chocolate-sex voice made my legs a bit shaky, but what he was asking for? It was too much.
Jared got down on his knees, right in the middle of the hallway, and everyone stopped to watch us. He raised his hands like he was begging. "Please, this is our one chance, but without a fourth member, we can't do it. You're perfect and it'll only be for a day, and then I'll owe you. I'll do anything you want." He topped it off with a grin. "Help me, Maddie Taylor, you're my only hope."
Damn. How could I say no to a Star Wars reference from a hot guy on his knees? The word slipped out before I could stop it. "Okay."
~~~~~~
About Elizabeth Briggs:
Elizabeth Briggs is a Young Adult and New Adult author who lives in Los Angeles with her British husband and a bunch of fluffy white rescue dogs. She's a guitar-playing geek who loves books, rock music, and video games, goes to Comic Con every year, and is still hoping to be a Jedi when she grows up.
Elizabeth currently works with WriteGirl to mentor at-risk or pregnant teen girls in writing, to help them get through high school and into college. She also volunteers with Bichon FurKids to help rescued dogs find a new, loving home. She previously worked as an intern for literary agent Jill Corcoran of Jill Corcoran Literary Agency, an intern for Entangled Publishing, and an editor for Curiosity Quills Press.
Elizabeth is represented by Kate Schafer Testerman of KT Literary and is a member of SCBWI and RWA.
GIVEAWAY: