Not Okay, Cupid by Heidi R. Kling
(High School Heartbreakers #1)
Published by: Entangled Crush
Published on: January 11th, 2016
Genre: Contemporary Romance / Romantic Comedy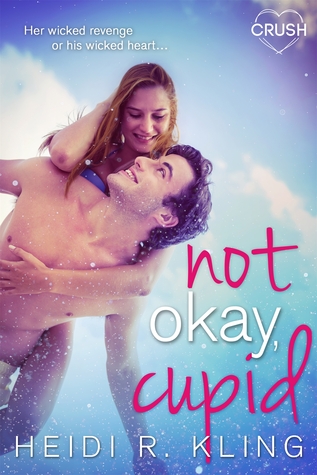 Her wicked revenge, or his wicked heart…
Hazel McCallister loves her life. Perfect grades. Perfect best friend. Perfect boyfriend. Until her perfect boyfriend cheats on her with her perfect best friend. Now Hazel's in free fall—until her best friend's brother, Felix, gives her the perfect idea. Reclaim her power by taking revenge on her cheating ex.
Felix James loves his life. Casual relationships. Loads of surfing. He's as drama-free as they come. But he can't stand by when his sister steals her best friend's boyfriend, and the dude insists it was Hazel's fault. So Felix vows to help turn Hazel into a girl her ex can't resist—so then she can break his heart.
With an alliance in place, Hazel's revenge is all but assured. But with each piece of payback, she feels a stronger attraction to Felix, even though revenge will turn her into a girl Felix could never be with. And soon Hazel has to make an impossible choice: revenge…or Felix, the boy who's stolen her heart.
WARNING! This book contains betrayal, revenge, and that most tempting vice of all, the bad boy you know you can't have.
Links:
I watched in horror as Kimmy's lips grazed Jay's ear. He leaned back and laughed. What the heck was going on?
"Oh God!" Hazel said, grabbing my hand. "Look at her hand."
Kimmy's hand was riding high up Jay's shorts. High, high. Like top of thigh high. The kind of move that usually let me know a girl was ready to get down to business.
"Dude," I said, because what else could I say?
Hazel swallowed. "Did you know about this?"
"Me? No way. Hell no. I've been looking for her all day, too. Look, Baze, don't overreact. We don't know anything. Who knows. He might have…lost a match and she's…comforting him. Or his turtle died and they're planning a eulogy together?" I was grasping and we both knew it, but I couldn't stand to see that pained look on her face. "I once heard the best eulogy for a frog. It was amazing. It was all about the life cycle from tadpole to amphibian to…"
Hazel brushed past me and barreled toward them. It was no turtle eulogy, and I knew it. I mean, I didn't know I knew it, but I knew the look of two people who were digging on each other, and those two were certainly all about the other one. God, poor Hazel.
I had to follow her. I had to help.
"Excuse me," I said to a group of three ladies in my way. Two of them grinned at me, one glared. The glaring one was a girl I'd forgotten to call back. I ducked, sheepishly, with a little apologetic wave, and came out on the other side.
I'd never even heard Hazel raise her voice, never mind cry. Never mind cry in public. But I didn't need to use my astute Sherlock skills to see Hazel was on the verge of doing all three. She stopped close to Jay and Kimmy, like she was verifying what she was seeing was real.
One more intimate touch from Kimmy on Jay and that was it. Hazel moved in for the kill.