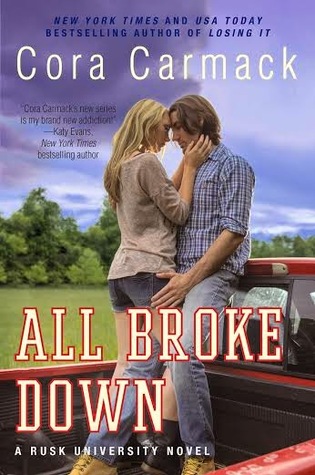 In this second book in New York Times and USA Today bestselling author Cora Carmack s New Adult, Texas-set Rusk University series, which began with All Lined Up, a young woman discovers that you can't only fight for what you believe in... sometimes you have to fight for what you love.
Dylan fights for lost causes. Probably because she used to be one.
Environmental issues, civil rights, corrupt corporations, and politicians you name it, she's probably been involved in a protest. When her latest cause lands her in jail overnight, she meets Silas Moore. He's in for a different kind of fighting. And though he's arrogant and infuriating, she can't help being fascinated with him. Yet another lost cause.
Football and trouble are the only things that have ever come naturally to Silas. And it's trouble that lands him in a cell next to do-gooder Dylan. He's met girls like her before fixers, he calls them, desperate to heal the damage and make him into their ideal boyfriend. But he doesn't think he's broken, and he definitely doesn't need a girlfriend trying to change him. Until, that is, his anger issues and rash decisions threaten the only thing he really cares about: his spot on the Rusk University football team. Dylan might just be the perfect girl to help.
Because Silas Moore needs some fixing after all.
My Review
5/5
I absolutely loved this book.
In the beginning of All Lined Up Silas was definitely not a character that most people would like. However, I did try and by the end I still found it difficult to like him but something really changed between ALU and All Broke Down. It's like you're reading about a totally different character, yet he's the same. You're just using it as an excuse to like him without thought, pretend that none of the bad stuff happened, and that's okay.
Dylan is one of my favourite characters by Cora Carmack. She has knocked Max off her top spot. Dylan's life seems perfect but it's not -and not because of any over-dramatised issues- she has real life problems that everyone can relate to. When you read this you aren't pitying her or thinking that her life is hard, instead, you're relating to her, thinking "yeah, I know how you feel". And that is what I love about these characters: you don't have to live the same lives as them to understand what they're going through or how they feel because their problems are universal; thoughts that a lot of people have in their lives.
As for the plot: I love that all of the people in Rusk University are so different, yet they're brought together under unusual circumstances and struggle to figure out who they are without losing sight of who they were. The protagonists are always so different but they're still struggling to get by in the same world so they learn to do that from each other.
I vastly recommend this series to anyone who has ever tried to figure out who they are and where they're going. The hot guys and sweet/sexy moments help too.
-T
Keep an eye out for All Played Out (Book 3) coming May 12th. You won't want to miss Torres' story. . .