Nikki Godwin, author of Chasing Forever Down and American Girl on Saturn among others, has a treat for you! In celebration of her newest contemporary M/M YA romance novel Breaking Saint Jude releasing this January 14, her LGBT YA novel Falling from the Sky is FREE this week across all retail sites! Yes, you read that right!
Read more about these two novels right here and don't forget to get both!
Title: Breaking Saint Jude
Author: Nikki Godwin
Date of Publication: January 14, 2015
Genre: contemporary LGBT YA romance
When sixteen-year-old Jude Calvert sets out to steal stained glass from a broken cathedral window, he finds more than shards of red. He finds Max Rangel - his eye candy from his new LGBT support group - hauling a giraffe carcass across an abandoned part of town with a pack of guys. And he still accepts Max's dinner invite a few days later.
Still, animal lover Jude can't get the giraffe out of his mind. It doesn't take long for him to confront Max, who gives him partial answers and introduces him to a secret brotherhood of not-so-typical game hunters. Unable to tell his mom (the savior of black cats everywhere) or his dad (the zoo's head veterinarian) and unwilling to go back to his overbearing therapist, Jude quickly finds himself sucked into the underground world of taxidermy, theft, and drug deals.
At first, he's willing to do anything for the brotherhood just because he's so thankful to belong to someone again after serious drama with his ex-clique and ex-boyfriend. But when his underground life collides with his life above, he realizes he may have bitten off more than even the biggest animal can chew.
Purchase from Amazon | B&N | Smashwords (For only $2.99!)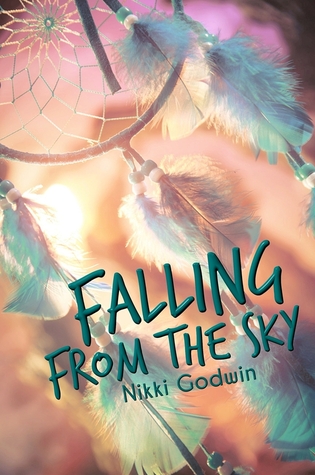 Title: Falling from the Sky
Author: Nikki Godwin
Date of Publication: February 21, 2014
Genre: contemporary LGBT YA romance

All stability in sixteen-year-old Ridge McCoy's life crashed and burned in the plane crash that killed his dad. This summer-long basketball camp is his chance to improve his skills and escape his problems back home. But his summer plans take a turn in an unexpected direction when he meets Micah Youngblood, the guy who runs the carousel at the local mall and has a reputation for devouring straight boys' heterosexuality for breakfast, alongside his chocolate chip pancakes.

Ridge needs a way to avoid the guys at camp, whose only quest for the summer is to drown in beer and hook up with girls. So when Micah offers to explain how the ten unique horses on the carousel are significant to his tribe, Ridge takes him up on it. Still, Ridge can't decide if this is a bad thing or not. All he knows is that he hasn't felt this alive since his dad fell from the sky, and as the horse adventures come to an end, Ridge finds himself falling as well – for Micah.
Lastly, it's also Nikki Godwin's birthday this January 14.

HAPPY BIRTHDAY, NIKKI!


Three celebrations, three swag packs to give away! Join the giveaway to get a chance to win swag items from Nikki. Open internationally!