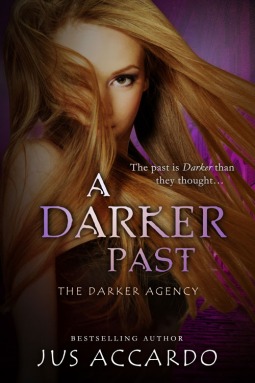 Title: A Darker Past
Series: The Darker Agency #2
Author: Jus Accardo
Publisher: Entangled Teen
Release Date: November 11th 2014
Genres: YA Paranormal
Links:
Goodreads

/

Amazon

/

B&N
Source: Bought ebook
Summary:
The past is Darker than they thought…
Between helping her mother with the Darker Agency and laying the smack down on monster baddies, Jessie Darker puts the "normal" in paranormal. But lately, things have gotten a little crazy…even for a smart-assed half-demon teenage girl.
For starters, Jessie's been contracted into fifty-five years of annoying servitude. To a demon. Then there's Lukas Scott, her sexy new boyfriend. Once the former incarnation of Wrath, he's been going through some…uh, changes. Like residual anger. And trading chaste hangouts for lusty make-out sessions.
But it's when Lukas and Jessie accidentally release a Very Nasty Demon that things get really bad, setting into motion a chain of death and mayhem that threatens both Earth and the Shadow Realm. Jessie has exactly four days to fix it…before all of Hell breaks loose.
4/5
A fabulous sequel, this book was just as exhilarating as the first. I am seriously loving these books and one of main things I love is the snark and biting wit of the characters. Especially Jessie. I seriously love that girl, she is just all kinds of awesome. It was fun watching the relationship between her and Lukas develop more. They are a great couple and couldn't be more perfect for each other. They had some really sweet and some really intense moments and it was fun watching them bicker over how far to take things as Lukas is so old-fashioned.
A character that I am growing a bit of a soft spot for is Valefar. He may be Jessie's "Master" now, as he likes to remind her, but there's more to him than meets the eye. I'm definitely eager to find out more about him in the next books and learn how deep his ties to the Darker family runs.
Like in book #1, there was plenty of action and some really kick-ass scenes. Never a dull moment to be had. There was also lots of twists and turns and shocking truths revealed which just had me glued to my kindle. I was hooked! And I really loved the connections between past and present that were unveiled. It was really interesting learning more about the Darker ancestors.
The book ended with dozens of questions still to be answered so I can't wait for book #3 to see what is to come next for Jessie and gang. The wait is killing me!