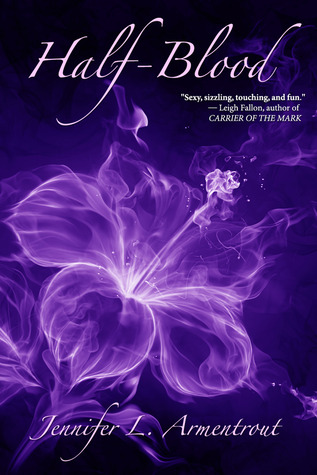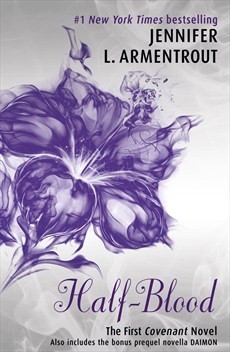 Half-Blood
Jennifer L. Armentrout
Summary from Goodreads
First book in the addictive Covenant series from #1 New York Times bestselling Jennifer L. Armentrout.
HALF-BLOOD is the unputdownable first book in the acclaimed Covenant series from #1 New York Times bestselling Jennifer L. Armentrout. This special paperback edition also includes the prequel novella DAIMON. (UK edition on right)
The Hematoi descend from the unions of gods and mortals, and the children of two Hematoi - pure-bloods - have godlike powers. Children of Hematoi and mortals - well, not so much. Half-bloods only have two options: become trained Sentinels who hunt and kill daimons or become servants in the homes of the pures.
Seventeen-year-old Alexandria would rather risk her life fighting than waste it scrubbing toilets, but she may end up slumming it anyway. There are several rules that students at the Covenant must follow. Alex has problems with them all, but especially rule #1:
Relationships between pures and halfs are forbidden.
Unfortunately, she's crushing hard on the totally hot pure-blood Aiden. But falling for Aiden isn't her biggest problem - staying alive long enough to graduate the Covenant and become a Sentinel is. If she fails in her duty, she faces a future worse than death or slavery: being turned into a daimon, and being hunted by Aiden. And that would kind of suck.
Buy Links:
UK
US



My Review
Like all of Miss Armentrout's books I found it hard to read this in more than one sitting. "Unputdownable" is definitely the word I would use.
The story centres around Alex a half-blood who would rather spend her life fighting than serving. After being on the run with her mother for three years, Alex is returned to the Covenant to finish her training and become a Sentinel. Missing out on three years of training leaves Alex at a disadvantage and warrants some extra help. Being stuck in a room with pure-blood Aiden day after day wouldn't be such a bad thing if he wasn't a Hematoi. Alex's crush on him must remain a secret because it is forbidden.
Meanwhile, daimons are roaming the country and seeming to get bolder in their search of aether. Daimons were one pure-bloods who got a taste for the life force within other pures and are now possessed with the hunger to get more. (Think zombie apocalypse specific to descendents of demi-gods.) Being a half-blood, Alex can see passed the glamour of the daimons and this is one of the very few reasons she is allowed to train.
For anyone who has read the Vampire Academy book this is very similar, replacing vampires with Greek demi-god descendents.
I really liked this book. I thought that the storyline was good. I'm always willing to read a book that contains any version of Greek myths and this had just the right amount.
Alex was a kickass heroine who didn't take much crap from anyone.
Aiden was a pretty awesome crush to have, I will admit.
Throughout the whole story I was urging Alex to fight and stay strong. I was on her side through all of the ridiculous politics and felt every ounce of pain delivered to her.
JLA can certainly write a book. She can do it so well that you feel like you're the protagonist and when you're finished reading you look around the room and realise that you didn't just have the adventure of a lifetime, you just passed another day grateful that you can return in the next book.