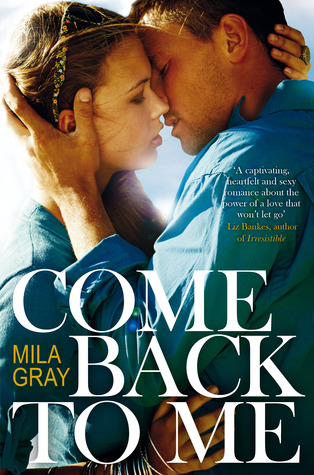 Title: Come Back To Me
Author: Mila Gray (aka Sarah Alderson)
Publisher: Pan Macmillan
Release Date: June 19th 2014
Genres: NA Contemporary Romance
Links:
Goodreads

/

Amazon UK

/

Book Depo
Source: eARC
Summary:
Home on leave in sunny California, Marine and local lothario Kit Ryan finds himself dangerously drawn to his best friend's sister, Jessa - the one girl he can't have.
But Kit's not about to let a few obstacles stand in his way and soon Jessa's falling for his irresistible charms.
What starts out as a summer romance of secret hook-ups and magical first times quickly develops into a passionate love affair that turns both their worlds upside down.
When summer's over and it's time for Kit to redeploy, neither Kit nor Jessa are ready to say goodbye. Jessa's finally following her dreams and Kit's discovered there's someone he'd sacrifice everything for.
Jessa's prepared to wait for Kit no matter what. But when something more than distance and time rips them apart they're forced to decide whether what they have is really worth fighting for.
A breathtaking, scorchingly hot story about love, friendship, family and finding your way back from the edge of heartbreak.
5/5
I am a huge fan of Sarah Alderson. Any book of hers I have read I have loved. Her YA books are amazing so when I saw that she was writing an NA book I was so excited! And then when Sarah sent me an advance copy for review I was over the moon! I couldn't wait to jump right in.
And boy did I love this book! I was hooked from the very beginning. I knew this book was gonna upset me because military stories always do but the prologue confirmed my theory that I was in for a tearjerker. I absolutely adored Jessa and Kit's relationship. These two are so incredible cute together. The book is told in dual POV and getting into Kit's head made me fall for him even more. This book couldn't have been told from just one POV. Both were needed for the story. The story is intense and passionate and full of some really smexy scenes but the last 1/4 of the book I was in a perpetual state of panic and despair. I had a lump in my throat and had to fight back tears numerous times. It upset me so much but saying that I wouldn't have had it any other way. The direction the author took the story was completely believable and not at all fantasized. It was heart-wrenching to read but it was real.
Overall Come Back To Me is a tender, heartbreaking love story that will tug at your heart strings and have you reaching for the tissues more than once. I really hope the author writes more NA books because this one was incredible.
*I received an eARC of this book from the author in exchange for an honest review*